Welcome to the brand new Backstreet Boys the Boyfan 99 page. It opended in September !
It's optimized to at least 800*600 resolution and netscape I recommend to use a 1024*768 resolution.
I'm not the Bboys, so don't e-mail me with questions and wishes for autographs !!!
Please note that this site will be updated every 4-5 days. Some of the information that I have comes from Caitlins Backstreet.Net web site. You can find a link to her site, and to many other great BSB sites on my LINKS page.
Thankyou and enjoy
****
Bsb and *N Sync Forever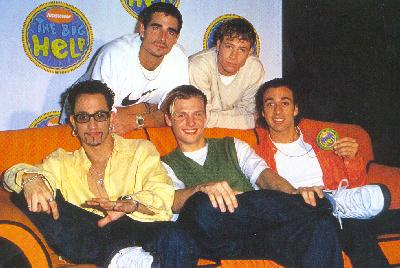 ENTER
Last updated: May 23, 1998



What's up dudes...I am so sorry I just cannot update as much I used too...I am so busy it's not even funny! And even when I'm not busy, I'm lazy....hehehe! Anways, my scanner is BROKEN....arafagahhahblablhah! Um...sorry. So I cannot scan new pictures and it sucks! Well, I'll be updating the picture galleries, so look there soon.