We are not the Backstreet Boys. We do not know them, their management or their family. This website is UNOFFICIAL. Created by Echo and Geny. Website officially launched on November 1st, 1999.

Dedicated to the memory of Caroline Coch ran
Welcome to the Vampire Goddess's Backstreet Boys' Page!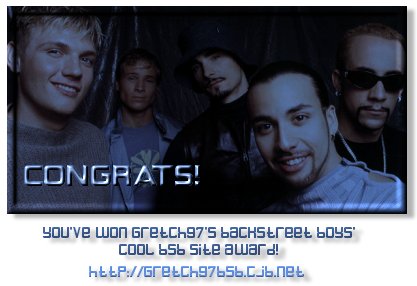 Hey BSB fans!! If you love this Florida-based quintet - then you've come to the right place. Here you can interact and learn sooo much about these hot and talentful guys. Plus, I guarantee that you'll only find the best stuff about the Backstreet Boys! But enough of this - which one do ya want??



Click
here
to vote for the Backstreet Boys as Top Artist of the Century.