Welcome to the brand new Backstreet Boys the Boyfan 99 page. It opended in September !
It's optimized to at least 800*600 resolution and netscape I recommend to use a 1024*768 resolution.
I'm not the Bboys, so don't e-mail me with questions and wishes for autographs !!!
** As Long As We Love Them **
HIT REFRESH IF SOME OF THE PICTURES DON'T SHOW UP!!!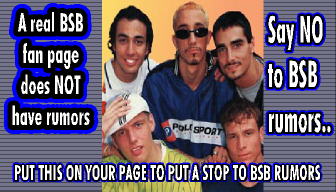 QUOTE: "LIVE LIFE TO THE FULLEST FOR THE FUTURE IS SCARCE"- NICK CARTER, IN HIS THANK YOU FROM THE NEW MILLENNIUM ALBUM